Kubetools - A Curated List of Kubernetes Tools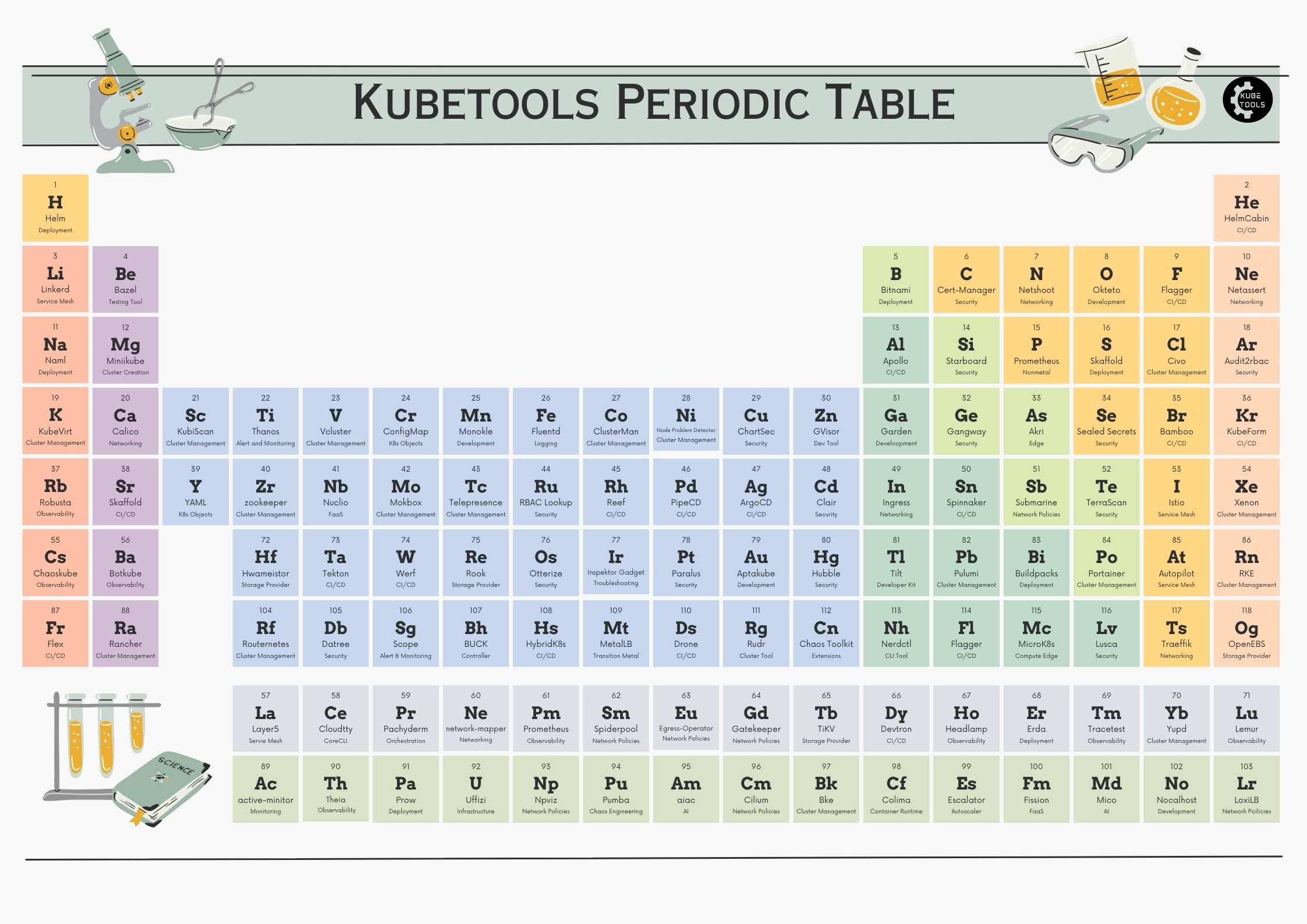 There are more than 450+ Kubernetes Certified Service Providers and tons of Kubernetes Certified distributions. Choosing a right distribution can be a daunting task. Kubetools is built with a purpose to build a curated list of popular Kubernetes tools. It is actively maintained by Collabnix Slack Community.
Follow the Kubetools Twitter account for updates on new list additions.
Have Questions? Join us over Slack and get chance to be a part of 9000+ DevOps enthusiasts.

Top Featured Kubernetes Tools(Nov 2023)
Table of Contents
Pods
Cluster Management
Cluster with Core CLI tools
Alert and Monitoring
Logging and Tracing
Troubleshooting / Debugging
Developement Tools/Kit
| Sr No | Tool Name | Description with URL | GitHub Popularity |
| --- | --- | --- | --- |
| 1 | Okteto: A Tool for Cloud Native Developers | Build better applications by developing and testing your code directly in Kubernetes | |
| 2 | Tilt: Tilt manages local development instances for teams that deploy to Kubernetes | Local Kubernetes development with no stress | |
| 3 | Garden: Kubernetes from source to finish | Development orchestrator for Kubernetes, containers and functions. | |
| 4 | KuberNix | Single dependency Kubernetes clusters for local testing, experimenting and development | |
| 5 | Copper | A configuration file validator for Kubernetes | |
| 6 | ko | Build and deploy Go applications on Kubernetes | |
| 7 | Dekorate | Java annotation processors for Kubernetes | |
| 8 | Lens IDE | A powerful interface and toolkit for managing, visualizing, and interacting with multiple Kubernetes clusters | - |
| 9 | Kosko | Organize Kubernetes manifests in JavaScript | - |
| 10 | Telepresence | Fast, local development for Kubernetes and Openshift microservices | - |
| 11 | Monokle | Desktop unified visual tool for authoring, analysis and deployment of Kubernetes configurations | |
| 12 | KuberEz | Graphical modeling tool for Kubernetes manifest | |
| 13 | mirrord | Run your local process in the context of your cloud cluster | |
| 14 | Aptakube | A modern, lightweight and multi-cluster desktop client for Kubernetes | - |
| 15 | Kubes | Kubernetes App Deploy Tool: build docker image, compile Kubernetes YAML files, and apply them | |
| 16 | Kaniko | Build Container Images In Kubernetes | |
| 17 | Python client for kuberenetes | Official Python client library for kubernetes | |
| 18 | eclipse che IDE for k8s | The Kubernetes-Native IDE for Developer Teams | |
| 19 | Kubebuilder | SDK for building Kubernetes APIs using CRDs | |
| 20 | Operator-sdk | SDK for building Kubernetes applications. Provides high level APIs, useful abstractions, and project scaffolding | |
| 21 | cdk8s | Kubernetes native apps and abstractions using object-oriented programming | |
| 22 | Gitkube | Build and deploy docker images to Kubernetes using git push | |
| 23 | Arkade | Open Source Marketplace For Kubernetes | |
| 24 | k2tf | k2tf - Kubernetes YAML to Terraform HCL converters | |
| 25 | Terraformer | CLI tool to generate terraform files from existing infrastructure (reverse Terraform). Infrastructure to Code | |
| 26 | Atomix | A Kubernetes toolkit for building distributed applications using cloud native principles | |
| 27 | Brigade | Event-driven scripting for Kubernetes | |
| 28 | Spread | Docker to Kubernetes in one command | |
| 29 | Kompose | convert docker compose to kubernetes resources | |
| 30 | Helmfile | Declaratively deploy your Kubernetes manifests, Kustomize configs, and Charts as Helm releases. Generate all-in-one manifests for use with ArgoCD. | |
| 31 | validkube | ValidKube combines the best open-source tools to help ensure Kubernetes YAML best practices, hygiene & security. | |
| 32 | Config Syncer | Config Syncer by AppsCode keeps ConfigMaps and Secrets synchronized across namespaces and/or clusters. | |
| 33 | Gefyra | Gefyra: Blazingly-fast, rock-solid, local application development with Kubernetes | |
| 34 | Kubernetes ConfigMap Reload | Simple binary to trigger a reload when a Kubernetes ConfigMap is updated | |
| 35 | RELOADER | A Kubernetes controller to watch changes in ConfigMap and Secrets and do rolling upgrades on Pods | |
| 36 | Ingress Monitor Controller | A Kubernetes controller to watch ingresses and create liveness alerts for your apps/microservices in UptimeRobot, StatusCake, Pingdom, etc | |
| 37 | odo | Developer-focused CLI for fast & iterative application development on Kubernetes and Podman | |
| 38 | configmap-reload | Simple binary to trigger a reload when a Kubernetes ConfigMap is updated | |
| 39 | k8tz | Kubernetes admission controller and a CLI tool to inject timezones into Pods and CronJobs | |
| 40 | KDash | A simple and fast dashboard for Kubernetes | |
| 41 | DevSpace | An open-source developer tool for Kubernetes that lets you develop and deploy cloud-native software faster | |
| 42 | K8Studio | K8 Studio is a cross-platform client IDE to manage Kubernetes Clusters | |
| 43 | Radius | Radius is a cloud-native, portable application platform that makes app development easier for teams building cloud-native apps | |
| 44 | Kubefirst | The Kubefirst CLI creates instant GitOps platforms that integrate some of the best tools in cloud native from scratch in minutes | |
| 45 | k'exp | Understand Kubernetes - the visual way Not yet another attempt to manage production clusters in the browser | |
| 46 | CRI-Purge | CRI Purge - Cleanup of Cached Kubernetes CRI Images | |
| 47 | k8s-insider | A zero-config way to access you kubernetes cluster network | |
| 48 | Cyclops | Developer friendly Kubernetes 👁️ | |
Alternative Tools for Development
CI/CD integration Tools
Security Tools
| Sr No | Tool Name | Description with URL | GitHub Popularity |
| --- | --- | --- | --- |
| 1 | Kubevious CLI | Prevent cross-manifest errors and violations of best practicees in YAML files, Helm Charts and Kubernetes clusters | |
| 2 | TerraScan | Detect compliance and security violations across Infrastructure as Code to mitigate risk before provisioning cloud native infrastructure. | |
| 3 | klum | Kubernetes Lazy User Manager | |
| 4 | kube2iam | IAM credentials to containers running inside a kubernetes cluster based on annotations. | |
| 5 | Kyverno | Kubernetes Native Policy Management https://kyverno.io | |
| 6 | kiosk | kiosk office Multi-Tenancy Extension For Kubernetes - Secure Cluster Sharing & Self-Service Namespace Provisioning | |
| 7 | kube-bench | CIS Kubernetes Benchmark tool | |
| 8 | kube-hunter | Pentesting tool - Hunts for security weaknesses in Kubernetes clusters | |
| 9 | kube-who-can | Show who has RBAC permissions to perform actions on different resources in Kubernetes | |
| 10 | starboard | Kubernetes-native security toolkit | |
| 11 | Simulator | Kubernetes Security Training Platform - Focussing on security mitigation | |
| 12 | RBAC Lookup | Easily find roles and cluster roles attached to any user, service account, or group name in your Kubernetes cluster https://fairwinds.com | |
| 13 | Kubeaudit | kubeaudit helps you audit your Kubernetes clusters against common security controls | |
| 14 | Gangway | An application that can be used to easily enable authentication flows via OIDC for a kubernetes cluster | |
| 15 | Audit2rbac | Autogenerate RBAC policies based on Kubernetes audit logs | |
| 16 | Chartsec | Helm Chart security scanner | |
| 17 | kubestriker | Security Auditing tool | |
| 18 | Datree | CLI tool to prevent K8s misconfigurations by ensuring that manifests and Helm charts follow best practices as well as your organization's policies | |
| 19 | Krane | Kubernetes RBAC static Analysis & visualisation tool | |
| 20 | Falco | The Falco Project - Cloud-Native runtime security | - |
| 21 | Clair | Vulnerability Static Analysis for Containers | |
| 22 | M9sweeper | Complete Kubernetes Security Platform | |
| 23 | Trivy | Find vulnerabilities, misconfigurations, secrets, SBOM in Kubernetes | |
| 24 | kubesec | Security risk analysis for Kubernetes resources | |
| 25 | Vault-k8s | First-class support for Vault and Kubernetes | |
| 26 | Hardeneks | Runs checks to see if an EKS cluster follows EKS Best Practices. | |
| 27 | Hubble | Network, Service & Security Observability for Kubernetes using eBPF | |
| 28 | Kubeval | Validate your Kubernetes configuration files, supports multiple Kubernetes versions | |
| 29 | Paralus | Paralus enables controlled, audited access to Kubernetes infrastructure and Zero trust Kubernetes with zero friction. | |
| 30 | Peirates | Kubernetes Penetration Testing tool | |
| 31 | Kubectl-kubesec | Security risk analysis for Kubernetes resources | |
| 32 | jsPolicy | jsPolicy is a policy engine for Kubernetes that allows you to write policies in JavaScript or TypeScript | - |
| 33 | Netchecks | Set of tools for testing network conditions and asserting that they are as expected. | |
| 34 | KubeLinter | KubeLinter is a static analysis tool that checks Kubernetes YAML files and Helm charts to ensure the applications represented in them adhere to best practices | |
| 35 | IceKube | IceKube is a tool to help find attack paths within a Kubernetes cluster from a low privileged point, to a preferred location, typically cluster-admin | |
Network Policies
| Sr No | Tool Name | Description with URL | GitHub Popularity |
| --- | --- | --- | --- |
| 1 | Calico | Cloud native connectivity and network policy | |
| 2 | kokotap | Tools for kubernetes pod network tapping | |
| 3 | Submariner | Connect all your Kubernetes clusters, no matter where they are in the world | |
| 4 | egress-operator | An operator to produce egress gateway pods and control access to them with network policies | |
| 5 | kubefwd (Kube Forward) | Bulk port forwarding Kubernetes services for local development | |
| 6 | Kilo (k8s + wg) | A multi-cloud network overlay built on WireGuard and designed for Kubernetes | |
| 7 | Cilium | eBPF-based Networking, Security, and Observability | |
| 8 | MetalLB | MetalLB is a load-balancer implementation for bare metal Kubernetes clusters, using standard routing protocols | |
| 9 | Spiderpool | underlay network solution of cloud native, for bare metal, VM and public cloud | |
| 10 | LoxiLB | eBPF based cloud-native load-balancer. Powering K8s,Edge,5G,IoT,XaaS Apps | |
| 11 | submariner | Networking component for interconnecting Pods and Services across Kubernetes clusters | |
Testing Tools
Service Mesh
Observability
Machine Learning/Deep Learning
Compute Edge Tools
Kubernetes Tools for Specific Cloud
Storage Providers
Backup Tools
Multiple Tools Repo
Cost Optimisation
Function as a Service FaaS
Artificial Intelligence
Non-Categorize
| Sr No | Tool Name | Description with URL | GitHub Popularity |
| --- | --- | --- | --- |
| 1 | Rudr | A Kubernetes implementation of the Open Application Model specification | |
| 2 | Keel | Kubernetes Operator to automate Helm, DaemonSet, StatefulSet & Deployment updates | - |
| 3 | Cabin, the mobile app for Kubernetes - | The Mobile Dashboard for Kubernetes | |
| 4 | Funktion | CLI tool for working with funktion | |
| 5 | Alterant | A simple Kubernetes configuration modifier | |
| 6 | BUCK | Brigade Universal Controller for Kubernetes | |
| 7 | kube-fledged | A kubernetes add-on for creating and managing a cache of container images directly on the cluster worker nodes, so application pods start almost instantly | |
| 8 | kpt | toolkit to help you manage, manipulate, customize, and apply Kubernetes Resource configuration | |
| 9 | capsule | Capsule helps to implement a multi-tenancy and policy-based environment in your Kubernetes cluster | |
| 10 | KubeSlice | KubeSlice enables Kubernetes pods and services to communicate seamlessly across clusters, clouds, edges, and data centers by creating logical application boundaries known as Slices | |
| 11 | routernetes | Use Kubernetes to make a home router! | |
| 12 | Symbiosis | Symbiosis is a cloud service provider optimized for Kubernetes. Launch clusters in <2 min with better tools and lower costs | - |
| 13 | Projectsveltos | Kubernetes add-on controller for hundreds of clusters that automatically discovers and classifies clusters, making it easy to manage add-ons at scale | |
| 14 | MayFly | Mayfly is a Kubernetes operator that enables you to create temporary resources on the cluster that will expire after a certain period of time | |
| 15 | yupd | Yupd is a command-line tool that allows updating YAML files the GitOps way | |
Maintainer